We are able to respond immediately to a variety of emergency situations!
Electrician Guildford undertakes all the tasks with an equal amount of professionalism, seriousness and attention no matter their size. We strictly operate under a "first come first served basis" hence we'll never abandon your job over a higher paying customer. The communication lines are always open; hence you can rely on us to always answer your call when you need us the most.
If you need a 24-hour Electrician in Guildford, call us on 01483928944. In addition, the technicians that collaborate with us can assist you with electrical maintenance issues. Above all, you do not have any emergency problems in the future. Call for an emergency solution online.
– Storage heaters
– Power showers
– Safety alarms
– Test certificates
– Electric Fault Finding
– Fuse Box Tripping
– Switch Tripping
– RCD Tripping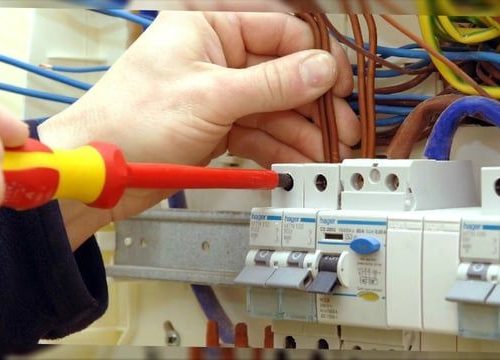 Electrician in Guildford – Emergency 24 HOURS
CALL US TO 01483928944. We are available 24 hours including holidays!
The professionals that collaborate with us are quick to access and diagnose your problems. The electrician will take you through the entire process if you need to know anything regarding the job. As you may know, electrical work can be dangerous, therefore you want to remove any responsibility in case the electrician gets into an accident while he is at your property. For this reason, we make sure and verify if the technicians are insured and certified.
We are not only quick to respond but also the technicians that cooperate with us show up very fast at your premises. In fact, they are ready to do the job and finish it promptly. All the technicians that collaborate with us have undergone training and certification; hence you can rest assured that they'll always do quality work. The knowledgeable staff knows how to work in complex situations without endangering your property or those around them.
A staple of many homes, storage heaters are handy, especially in cold months. As useful as they are, storage heaters breakdown, just like other machines. A problematic storage heater can bring discomfort to your home, not to mention put your children or the elderly in danger. Therefore, call us for any problem regarding your storage heater and the technicians will be there very fast.
Some areas do not have a proper water flow to allow a shower to emit enough water, hence the need for a power shower. The specialists that collaborate with us will install a new power shower customized with your budged and needs. In case your power shower is not working, call us, and we will contact the nearest power shower specialist to assist you.
Do you have a safety alarm in place to protect your property? In case it is not working as it should, we collaborate with the best local electricians in Guildford to help you repair any safety alarm malfunction. The technicians can diagnose and rectify any safety alarm problem. So, your property and the loved ones can remain safe with our help.
Do you have certificates stating that the electrical components, installations, and equipment are at their best working order? In fact, having a test certificate gives you the peace of mind that neither your loved ones or property is in danger from either electrocution or dangerous electrical fires. We collaborate with certified electricians, so you can feel safe in each intervention.
Electrical problems can be sudden and also disruptive and dangerous when they happen. You cannot postpone electrical repair because they can become dangerous in the future. Indeed, putting off repairs can be potentially dangerous and form electrocutions in the future. Therefore, call Emergency Electricians and an emergency electrician near you will come to fix any electrical defect.
Emergency Electrician in Guildford offers 24 Hour emergency contact in your local area.
We're here for your electrical needs, from power to lighting – Give Us a Call at 01483928944